Every year craft winemakers explore new adventures through illustrious tales capturing the essence of our unique wines through our Restricted Quantities Premium Collection. 
We invite our craft winemakers to join us in with five new premium collectible wines sourced from the renowned regions of Chile, Argentina, Spain and Australia to create, celebrate and share with your family and friends.
This year RQ is Putting On The Ritz to celebrate twenty years of craft winemaking excellence in the luxuriously fabulous style of the 1920's. Become immersed in the splendor of Restricted Quantities' roaring twenties premium collection. From experience to sophistication; from youth to age; from expectation to accomplishment.
Each wine is aptly named after a popular 1920's common phrases and not to outdo one another, each phrase carries a common meaning of being "the best of the best".
A toast to a roaring twentieth anniversary!
PUT ON THE RITZ WITH FIVE SPECTACULAR WINES!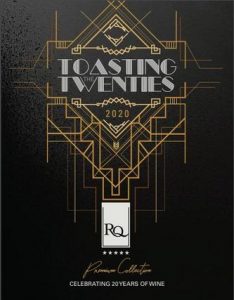 Toast with these 5 spectacular wines:
Argentina Bonarda Syrah
Spanish Macabeo
Chile Cabernet Sauvignon Merlot
Australian Pinot Noir Shiraz
Spanish Rosé