Our Mission: To help you craft commercial-quality wines at non-commercial pricing!

The Towne Winer opened in 2003 in the south- end of Guelph at the Downey Road Plaza. The proprietors both have their own areas of expertise: Barrie (a.k.a. The Winer) started to make wine 35 years ago while Liz has 25 years experience in the gift trade. Our micro winery features Riedel: the world's best stemware, wine and gourmet gifts, the newly introduced RESISTech lead-free crystal wine stems plus essential wine accessories. Our award wining wines are vinted from the world's best wine kits, pasteurized juices, fresh varietal juices from Italy, California and Niagara Peninsula. Beyond the sales counter is the walk-in cooler, bottling area with prep sinks, bottling supplies and equipment.
Our winery offers an inviting atmosphere in which to vint your quality wines. We have an extensive barrel program, we specialize in vinting "with skins on", varietals and French hybrids. With the help of multi-award winning winemaker, Barrie, the results are commercial quality, ageworthy wines for you to enjoy and share with your friends.
We don't sell "special pricing". We create maximum value and quality in every price point/kit/juice category for you. The results of quality wine making are that you will enjoy wines of more complexity, taste, finish and body. Good wines takes time. And we stand behind this goal and our mission: providing you value & quality with your wining experience with us. 
Why Wine With Us?
100% Satisfaction Guaranteed! 

Personalized service, start to finish

Customized wine & barrel aging programs

Elegant gift baskets for personal & corporate

Superior water quality




(5-stage carbon filtration plus U-V Sterilization)

International multiple award winning winemaker

Comfortable and inviting atmosphere for your winning

Minimal use of additives and preservatives in your wine

Buy local! We specialize in sourcing premium Niagra juices

Essential wine accessories, stemware, decanters, and aerators

We are not a franchise so we are not supply controlled nor limited

Continual sourcing for the best new products in every price and quality category

All reds vinted with skins on, to enhance: colour, complexity, flavour, body, and aroma

Continual improvement of our wine making techniques to vint the best possible wines for our winers
---
For a quick look at The Towne Winer overview
click on 

our brochure below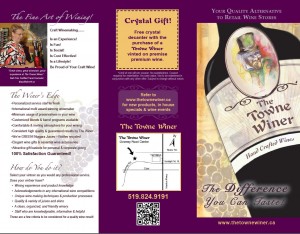 ---
Associated and Affiliated Locations
We are NOT a franchise organization, but offer fee-based consulting services in all aspects of starting your own on-premises wine making business. We have 30+ years experience and can provide ongoing support for as long as you feel it is necessary. 
If you are interested in owning and operating such a lifestyle business and would like more information please contact us by emailing info@thetownewiner.ca or call (519) 824-9191.
---