The Towne Winer strives to give you a true Craft Beer experience. 

The Towne Winer has launched a naturally carbonated, unfiltered, premium, handcrafted small-batch beer programme that is locally sourced. Each batch makes approximately 3 cases of standard 341 ml. beer bottles and start at $89.

It is an innovative and exciting concept which offers interesting craft beer varieties and seasonal specialities. Bottling is done in recyclable 750ml. glass Belgium bombers that are crown-capped to ensure freshness and consistent quality from bottle to bottle.

All Towne Winer beers are made with 100% all-natural ingredients with minimal processing and are not pasteurized nor chemically preserved. 

These cask-conditioned lagers and ales can become more complex and smoother with several months of ageing with proper storage conditions.
How?
1. Visit us to order your beer and start the quick brewing process.




2. Return in approximately 3 to 4 weeks to bottle your beer with our automated filling system.




3. When you take your beer home just wait 7 days to bottle condition (naturally carbonate), then chill and serve to your appreciative guests.
*Note: Beer bottling sessions take place on Saturdays only!
---
We Are Green!
Our business colours may be Mustard & Violet, but our true colour is Green! We strive to use environmentally friendly products and production practices to protect our planet.
We bottle your craft beer exclusively in glass and capped just like commercial bottling is done. This allows you unlimited reuse of these classy bottles plus the reduction of potential waste of cans and plastic bottles.
And Mother Nature gives us all the natural ingredients to make great beer for you!
---
YOUR CRAFT. YOUR STYLE. YOUR BEER.
Brew your favourite style of all-grain craft beer in just a few weeks and enjoy a truly great beer with fresh and pure flavours and aromas. Truly great beer requires quality ingredients: the best barley, malt and hops to brew small batch fermentations that captures all its delicate aromas and flavours.  No sugar, no concentrate, no adjuncts. No extract. Just pure, fresh, beer for your enjoyment!
ALE
Ale is renowned for being a full-bodied beer with pronounced fruity flavours. Historically the term "ale" referred to a drink brewed without hops. The bitter flavours found in the original ales were created by boiling a mixture of herbs or spices in the wort before fermentation. Later, hops became the primary bittering agent in ale, much like other types of beer.
LAGER
Lager beers usually have a clean, crisp aroma and flavour profile and can range in colour from pale to dark. Lager, the world's most popular type of beer by volume consumed, gets its name from the German word "Lager", which means storeroom or warehouse. Historically these beers were stored for a long periods of time in cold storage rooms, or even caves beneath ground.
PORTER/STOUT STYLE
Stout is a strong, dark beer that originated in Great Britain and is typically made using roasted barley or roasted malts. It is aptly named since the adjective "stout" means "strong". Stouts are usually full-bodied and smooth with low to moderate bitterness, and can be both sweet and rich or dry. They often feature nutty, caramel, coffee or chocolate-like flavours. Brewed since at least 1820, stout is Ireland's gift to beer lovers. Ours is dark and rich, with a bold roasted flavor, hint of chocolate and espresso-like finish. So smooth, you'll enjoy having more than one.
Available in many delicious craft styles: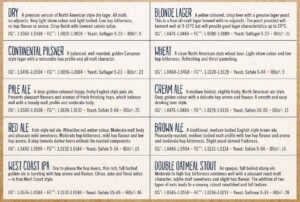 Enlarge the photo below for our Festa Brew selections and descriptions.
Visit us today and start enjoying your very own
Microbrewery in a Bottle!