The Towne Winer has launched a naturally carbonated, unfiltered, premium, handcrafted small batch beer programme locally sourced and developed by our highly experienced Munich trained brewmaster. As an innovative and exciting concept, The Bearmister is offering interesting craft beer varieties and seasonal specialities to be bottled in recyclable Belgium bombers, champagne style bottles, and 1L growlers. All Towne Winer beers are made with "100% all-natural ingredients" with minimal processing and are not pasteurized nor chemically preserved. These cask conditioned beers and ales remain consistent in quality even after several months of ageing provided they are stored properly. See below for our selection.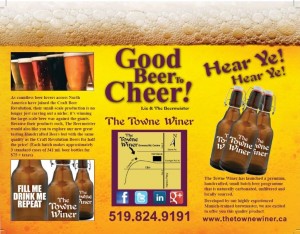 ---
 We Are Green!
Our business colours may be Mustard & Violet, but our true colour is Green!
A key reason we love Growlers and Glass "Swing-Top" Bottles are the re-usability of the containers.
Our fans can bring their "glass" back over and over again which reduces the potential waste of cans and plastic bottles.
We also strive to use environmentally friendly products and practices to protect our planet.
After all Mother Nature gives us all the natural ingredients to make great beer!
---
As countless beer lovers across North America have joined the Craft Beer Revolution, their small-scale production is no longer just carving out a niche; it's winning the large-scale beer war against the giants. Because their products rock! The Towne Winer would also like you to join us in exploring our great tasting hand-crafted beers, but with same quality as the Craft Beer Revolution beers for half the price! (Each batch makes approximately 3 cases of standard 341 ml. beer bottles for $75).
How?
1. Visit us to order your beer and start the quick brewing process.
2. Return in 3 weeks to bottle your beer with our automated filling system.
3. When you take your beer home just wait 7 days to bottle condition (naturally carbonate), then chill and serve to your appreciative guests.
Available in many delicious craft styles when in season:
     

Premium Beers:
     Speciality and Seasonal Beers:
Visit us today and start enjoying your very own
Microbrewery in a Bottle!