The Towne Winer gives the lucky couple a fun way
to offer great wine at affordable pricing
The Towne Winer offers great commercial quality wine at non-commercial pricing in an inviting atmosphere!
Interviewing Liz Woolford and Barrie Browne, Proprietors of The Towne Winer, Downey Road Center, Guelph:
If you ask Liz Woolford and Barrie Browne, making your own wine is about getting creative with your wedding details, offering great tasting, award-winning wine with minimal additives, and of course, having fun while you're at it. "We offer a customized and fun experience vinting your selected wines for your wedding day."
Together, Liz and Barrie use their expertise to help couples with wine pairings while also giving them the inside scoop on all the options that can come with making their own wine for their wedding reception. And to top it all off, The Towne Winer gives couples a great way to save money on their reception beverages costs. "We can help you craft commercial-quality wines at non-commercial pricing!"
Why wine here?
Jessica and Tim Graham bottled their rehearsal and reception wines at The Towne Winer and told The Wedding Ring that "Barrie and Liz are always so helpful and coached us along the way to help make our wine exactly what we wanted for our special day! Mostly we worked with Barrie. He is so wonderful to work with; he knows so much about wine making that it made the experience so pleasurable."
Expertise in wine making is definitely the top reason to choose The Towne Winer. Jessica agrees saying that she and her husband "chose the Towne Winer because my parents have been making their wine there for years and the wine was always fantastic".
The Winer says that making quality wine is a personal experience as it is hands on craftsmanship of your finished wine that speaks for itself.  The Winers have an extensive barrel program, specialize in fermenting red varietals "with skins on" and vinting white French hybrids and Ontario sourced fresh varietal juices. The process uses a minimal amount of additives and superior quality water if required (a five-stage carbon filtration plus U-V Sterilization).
The best part about making your own wine at The Towne Winer is that all of their services are customized to the couple's needs. So for example, the Winers use their expertise to suggest which wines that would compliment the wedding dinner menu.
Liz adds, "Varietal specific rosé wines are popular because they look so attractive in the stem as a toasting wine. Rosés are normally just off-dry, providing a versatile wine as an aperitif and as a food accompaniment. Even non-wine drinkers are surprised when they enjoy a glass."
Vinting at The Towne Winer is a fun introduction to wine making and a great way to learn about different regional styles, unique blends and varieties. Not to mention the pride and satisfaction of announcing to your wedding guests that this wine is your own creation! The Winers hope that the couples express, "what a fun experience they had making their wine for the wedding," and that it was "well selected and went over really well with their guests."
Liz recommends bringing in your wedding party as a group outing to bottle your wine and as memorable event leading up to your wedding. "My parents, along with my husband and I, thought that it would be a nice personal touch for our guests," says Jennifer on the reason she and Tim considered making their own wine. And they also took The Winers' suggestion and invited her parents to help them making it a fun and memorable experience.
Patience is bitter but good wine takes time!
Liz recommends that "once the caterer is booked and the menu is chosen" you should start vinting your wines immediately! Fine wine takes time to mature and become well-balanced. The longer your wines age, the greater the potential of your wines!
Walking through the wine making process…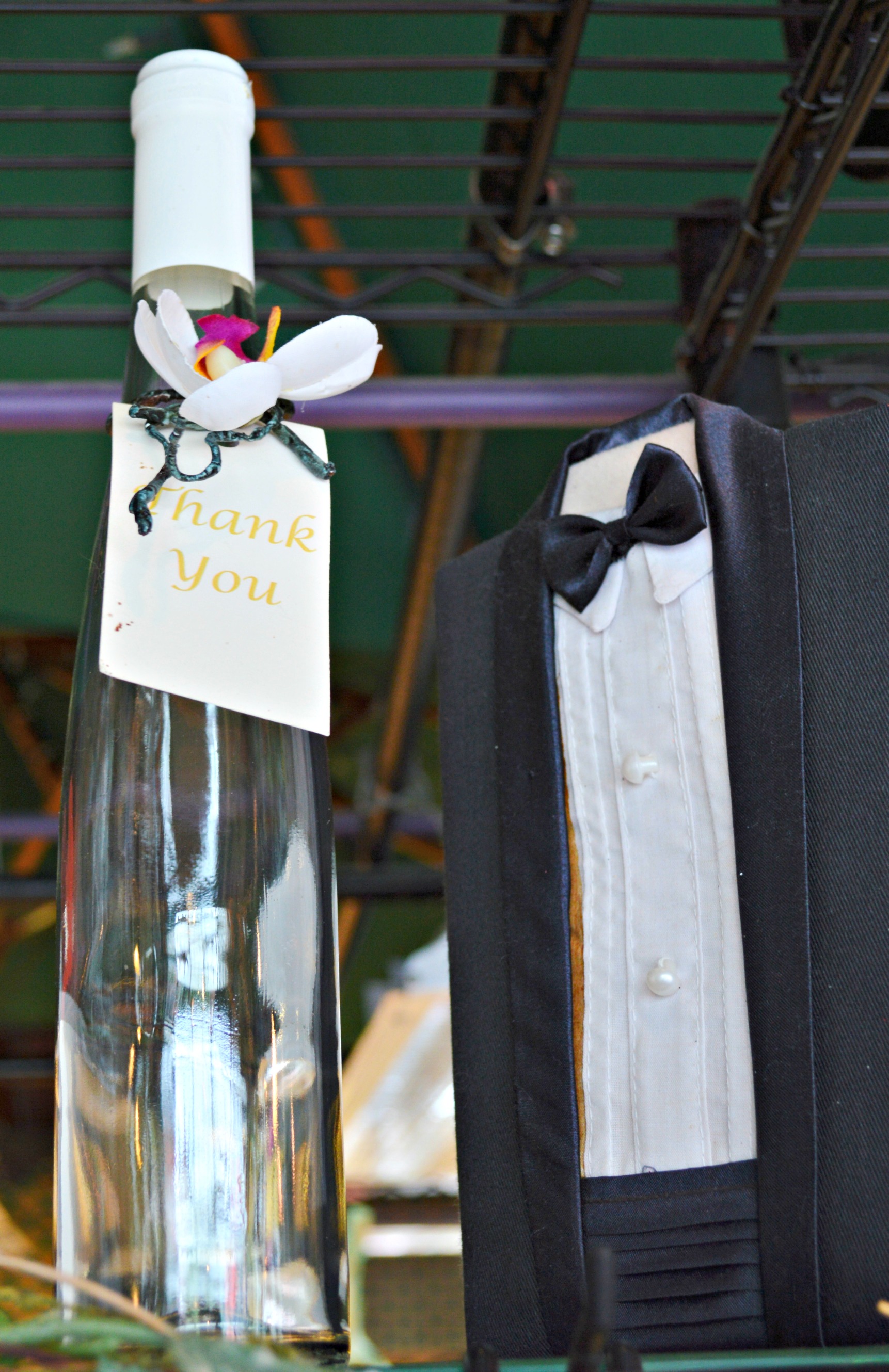 Visit their micro winery for a consultation with the Liz & Barrie. Discuss your preferences, go over the types and styles of wines and unique wedding gift accessories that they offer. Liz will ask what courses you're serving for dinner and where your reception is being held in order to determine and minimize your corkage fees. Bottle sizing and shapes will be recommended as well as types and sizes of quality die-cut labels and appropriate bottle shrink wraps to coordinate with your wedding colours.
Liz will then set up a quote based on the type of wines you've chosen that best suits your menu, budget and desires.
Pricing it out…
The big benefit to making your own wine is of course the substantial cost savings, but another key benefit is "to vint customized, high quality wines which are competitive with commercially available products."
Jessica and Tim could not agree more: "For the quality we received in our wine and with all the compliments from our guests, I would have paid a lot more money. Their prices are very affordable."
Liz & Barrie recommend selecting your wines by 2 parameters: are your quests a wine crowd and how much time do you have to age your wines properly?

The Towne Winer sources the best juices available for barrel fermentations and do extended maturation on their premises to further enhance the finished quality of your wedding wines. This often suits couples looking for more versatility in their choices. However, most tastes and time frames can be accommodated.
Recycled bottles may be used for the bar service but Liz highly recommends matching bottles for your table presentation. They have selected bottles for your wedding that can save you money on your corkage fees available.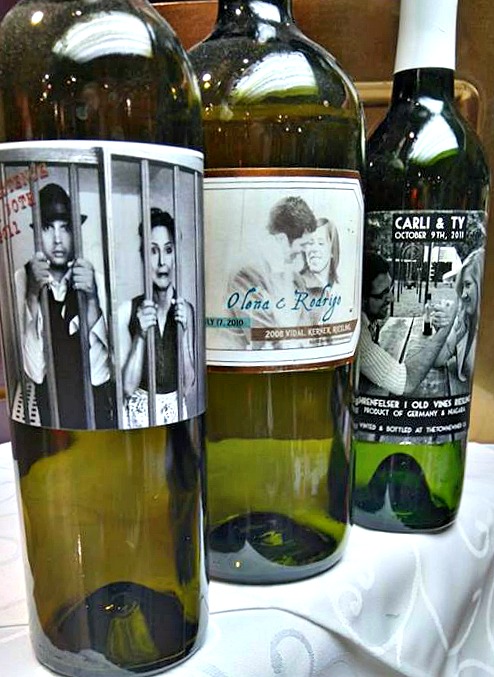 Co-coordinating die cut labels, corks and seals are complimentary. The couple can personalize the labels themselves, or have them printed at our recommended printing shop.
For weddings with over 100 wining guests, The Winer suggests that a medium- body red, a full-bodied red, an off-dry white and a dry white be vinted to cover all tastes and menu at the wedding table. Also, for your rehearsal, shower and toasting, the showcase Towne Winer Rosé is a medium dry aperitif that has had great feedback for it's versatility. Even guys like to blush with this wedding winner!
The award-winning Winer personally speaking…
The Towne Winer has been open since 2003, but Barrie (a.k.a. The Winer) started vinting wine forty years ago and has won numerous International Wine Association Awards for his craft. 
The Winer has extensive knowledge and training in winemaking, and his social beverage of choice has been wine for 50 years. He continues to extend his wine knowledge as he promotes wining as a lifestyle and consults with his peers for ongoing improvement in his wine making skills.
He is aware of how a reputation is built. He states that, "since you are only as good as your last barrel of wine, your winers are your ambassadors and the wine is the messenger in a bottle. Word of mouth is everything!"
And finally, you have the peace of mind with your purchase: your wines are guaranteed. As The Winer has stated, "our reputation is in the bottle!"
The Winerette personally speaking…
Liz (a.k.a. The Winerette) has thirty years of experience in the gift trade. She oversees the section of the winery that is dedicated to wine and gourmet gifts, showcasing some of the world's best stemware, creating fabulous personal and corporate gift packaging and sourcing functional and unique accessories for the wine connoisseur.
Liz says that what couples appreciate about their winery boutique is the "personal one-on-one service," caring staff and their willingness to help personalize for each couple's wedding. The Winers add that they are dedicated to making "everyone's experience a fun time and that their wines be a positive reflection of their wedding".
More on the micro winery. More on the gift boutique.
Contact Liz and Barrie:
519-824-9191
info@thetownewiner.ca
Visit The Towne Winer:
Downey Road Centre on Downey Road
(just West of The YW/YMCA) in Guelph.